History of Scroll Compressor (Air End)
The concept of scroll compressor was first proposed by Leon Creux of France in 1905, but it was not commercialized at the time due to lack of processing technology and measure on the gas leak.
In Korea, Kyungwon Machinery started assembly production in 1993 and successfully developed a commercial oil-free scroll air compressor for the second time. a nation and third time as a maker in October 2004, It has become an oil-free scroll air compressor manufacturer with high added value,
1979
It was processed and developed by HITACHI of Japan, and commercialization was done as an air conditioner for cars by Sanden of Japan in 1981.
1983
After successful commercialization by HITACHI of Japan as a home package air conditioner, COPELAND of the United States commercialized the product to vitalize scroll compressor market.
1987
Japan began development of oil-free air compressor, but actual commercialization was delayed.
Delay in commercialization was caused by lack of technology to effective, resolve axial gas leak in turning scroll, wear loss between scroll wraps, and accurate processing of scroll shape.
1991
ANEST-IWATA and HITACHI of Japan succeeded in the commercialization of oil-free scroll air compressor. Higher level cam processing technology and Sealing technology were applied compared to air conditioning scroll refrigerant compressor developed in the 1980s.
Major air compressor manufacturers in the United States and Europe recently attempted to develop oil-free scroll air compressor, but they failed to commercialize it due to patent technology of ANEST-WATA and HITACHI.
1991
Kyungwon was the second as a nation and third as a maker to develop and commercialize oil-free scroll air compressor. It has become an oil-free scroll air compressor manufacturer with high added value.
Oil free scroll air compressor exhibited high efficiency, low noise, small size a. lightweight. It was commercialized in the range of 1.5kW ~ 30kW and is widely used in diverse fields.
In the future, efforts for development of large capacity technology are expected.
2010
Obtain. ISO 8573-1: 2010 Class 0 certification
As a certification on contaminants and purity level of compressed air, the 2010 revision reflected dust on contaminants to define Class 0 as the cleanest air.
2010
Attachment of CE mark on a product means that the product or its manufacturer satisfies essential requirements in the relevant regulations or directives of the EC Board of Directors. In other words, conformity lest was performed on the product by the manufacturer, importer or a third party (certification authority) for distribution of the product in the market without limits. Accordingly, products related to the health of consumers, safely and environment are obligated. to attach CE mark.Marked products can be distributed freely without inspection or testing in EU and EFTA regions. That is, it is a unified product certification mark acknowledged by EU and EFTA nations (members of the European Union and European Free Trade Agreement).
Operating principle of scroll air compressor
Fixed scroll and turning scroll in the operating part are combined by turning the phase of both warps by 180°. Turning scroll turns along the rotation of the crank axis as shown in the figure, Suction compression and discharge are performed simultaneously, and four enclosed spaces (compression rooms) with the shape of the crescent moon are formed
Enclosed volume of space in shape of crescent moon is gradually compressed. compressed air moves to the centre and is discharged out through outlet at the centre of the fixed scroll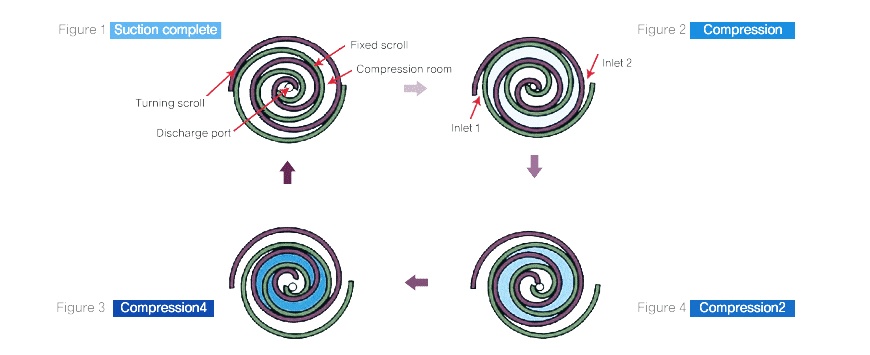 Operating principle of scroll air compressor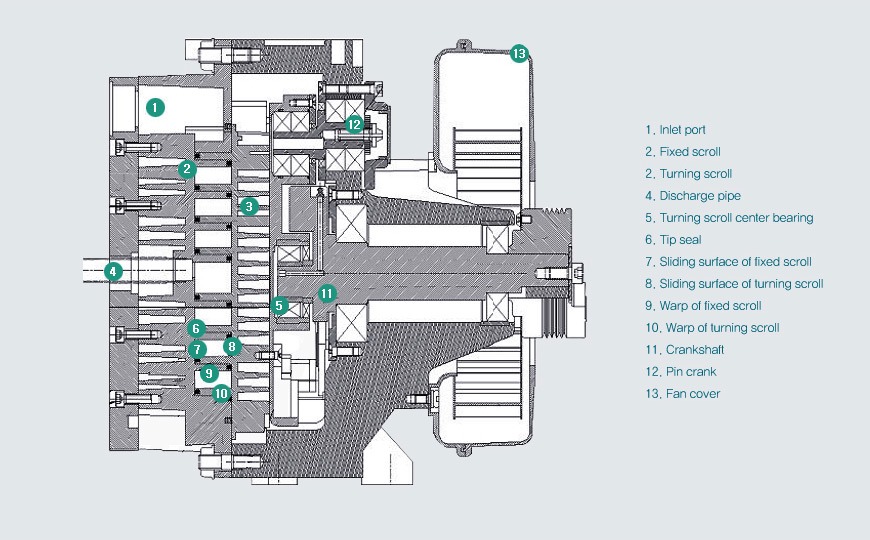 Characteristics of scroll air compressor
High efficiency during compression process through prevention of gas leak
Since pressure difference between two compression pockets of fixed and turning scrolls is smaller than overall pressure difference calculated by subtracting suction pressure from discharge pressure. compared gas is never recompressed. This results in smaller power loss compared to other compressors.
In the case of reciprocating compare and rolling piston compressor, the recompression process is repeated to reduce the efficiency of the compressor
Suction compression and discharge are continuously performed.
It involves low vibration and noise as compression is continuously performed with a slower speed of pressure increase compared to other compressors.
Change in torque of scroll compressor is about 1/10 of torque change shown by other the compressors, exhibiting a significant reduction in vibration and noise1.
Rotation and compression torque of the crank axis (figure on the right)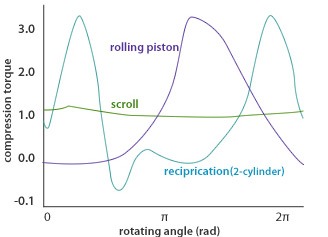 Suction valve and discharge valve are unnecessary
Since suction room inhaling gas and discharge room performing discharge are not directly connected, suction and discharge valves are unnecessary. As a result, there are no problems related to fluid loss. noise and damaging. The product obtained high efficiency, low noise and high reliability.
Advantages of oil-free air compressor
It supplies clean air.
It is appropriate for the purpose as described below as compressed air does not include oil mist.
– food manufacturing machinery, beverage manufacturing machinery, medical device. a dental device, analyzer chemical industry, chemical industry, particulate return, painting. printing machinery. paper processing, water quality improvement
Oil management such as oiling unnecessary
– Oil management such as routine oiling is unnecessary, and there is no cost for oil replacement and filling.
Excellent environmental protection (no oil mist)
– Since oil mist is not discharged, the surrounding environment is not polluted.
Oil mist filter does not need to be installed and managed.
– Costs for installation and element replacement of oil mist removal filter are unnecessary.
There is no cost for treatment of waste oil.
– No industrial waste and wastewater is generated.
– There is no cost that occurs to industrial waste management business.
here is no cost for management of drain.
– Oil injection drain contains oil in water and involves a cost for wastewater treatment. but oil-free type does not have such cost.
Pressure loss from contamination on the interior of the pipe is low.
– When used for a long time. contaminants inside the pipe can be increased to cause pressure loss and failure of devices such as auto trap, increasing the cost burden compared to the initial electric charge.
Simple air circuit compared to forced oil injection circuit
– Low failure rate