COAIRE in Electric Bus & Trams Field
Coaire is one of the first companies in the world to accomplish perfection in Oil free scroll air compressors.
Oil free compressed air is the aim for every application. Coaire is actively involved in transport and railways segments in South Korea. They have jointly developed compressed air solutions with Korean Rail Road Research Institute for electric buses and Light Rails. They are currently involved in such projects arround the world.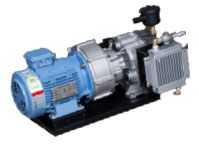 Scroll technology uses very less components and is more reliable than any other type of compressors. They have very less consumables and have longer service interval. Oil injected or lubricated compressor inherits all the oil related complications. Coaire Oil free Scroll compressors are perfect for Electric buses and Light rails.
Coaire has various solutions for Electric buses. We offer Belt, direct drive or only the airend alone. Most of Electric bus manufactures find it a perfect fit for their electric buses due to various factors..
Coaire is first again to develop a single airend of 10 HP. This is an answer to various critical applications. Coaire is currently working with many OEM's for critical applications. Coaire has simple solutions to complicated problems.